Welcome to the home of Bognor Regis Model Railway Club
*******************************
IMPORTANT UPDATE regarding COVID. We are currently opening as usual. Main meetings are Tuesday evening 7pm to 9pm, and Thursday evenings, 7pm to 9pm as well as Saturday mornings 9am to 12ish.

We will post details here should circumstances dictate any change to this

*******************************
Bognor Regis MRC Ltd
with Bognor Regis Model Railway Club
will be presenting their 2022
Annual Model Railway Exhibition!
on
Saturday 15th

and

Sunday 16th

January 2022
Based in our stunning club houses - the Goods Shed and the old Barnham Signal Box, Bognor Regis MRC meets as a whole group on a Tuesday evening from 7pm till 9pm, although we are often there past 9. As well as this, we meet on a Thursday night from 7pm - 9pm and Saturday 8am - 11am (mainly for ground works but also for layout related things). For the younger of our members, we additionally run a kids club for them on the last Saturday of the month from 2pm - 4pm.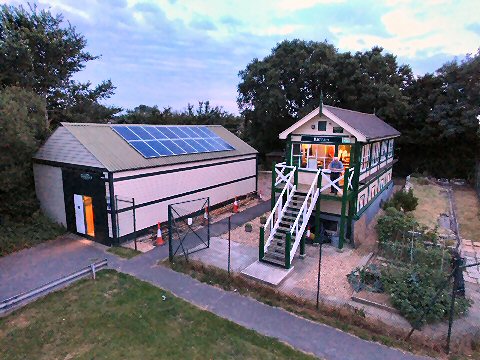 You do not have to model in one or two specific gauges to beecome a member of the club. We welcome anybody, whatever gauge you model in. Despite OO gauge being the most modelled within the club, we have members who model in nearly every gauge there is - our modelling gauges cover N, OO9, 3mm, HO, O-16.5, O and G, as well as the tiny T gauge.
When you become a member of the club, everybody in the club will be more than happy to give you advice on guideance on what to do with your own layouts, irrespective of what gauge it is modelled in. We also encourage all members, whatever gauge they model, to join in with the design, construction and operation of all the layouts we construct and take out to exhibitions on behalf of the club.
To see what we are about and what we get up to at meetings and on the road at shows, follow the links at the top of the page and take a read of our news articles to the left.