Bognor Regis Model Railway Club Members' Layouts that never leave home!
Obviously these layouts are not available for exhibition. But, including them here does serve to show the wide range of skills, experience and interests within the club. This page is slowly taking shape as members provide information and photographs.
---
The Ashley, Danville & Deanstown - by Cliff South
The Ashley Danville & Deanstown, once a small 8' x 18" HO American themed exhibition layout set in the early 1900's was relegated to the loft. It has now expanded into a layout 16'x14'. , The time frame has moved into the 1950's to provde for the use of both steam and diesel outline locos.The AD&D is now a "fallen flag" it has been taken over by the Southern Pacific. Although a single track mainline there are several town sites/ industries where trains may pass or the cars can be switched providing a lot of work for the crews. Trains range from passenger streamliners and regular freights to logging/timber and coal mine operations.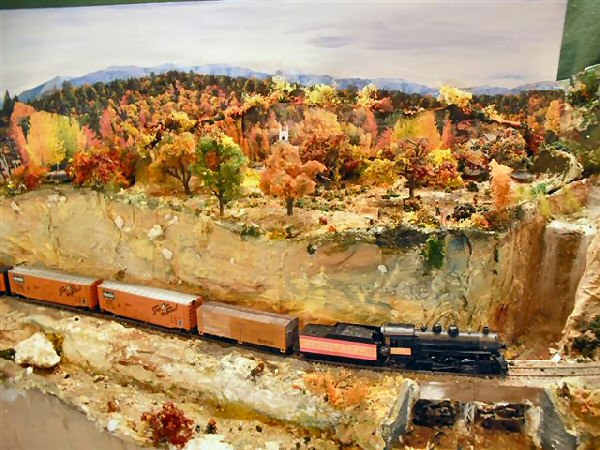 ---
The Virginia & Truckee Railroad - by Cliff South
The layout is in a 12' x 9' garden shed and is HO scale representation of the V&T from Virginia City, Nevada to Gold Hill. Very much compressed. The era is the 1860's during the gold and silver boom on the Comstock lode. Some of the buildings seen in Virginia City are close copies of some original ones, some still there today as .i.e. The Territorial Enterprise (newspaper) and St. Mary's Church. The International Hotel, then the tallest building west of the Mississippi burnt down in the early 1900's.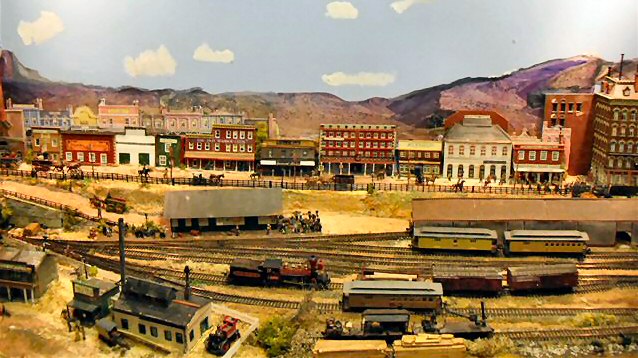 ---
Slindon Vale Railway
- Chris Davis
O16.5 - 7mm scale on 16.5mm (00 gauge) track - 6'5" x 5'0" - DCC
This is a far from finished small loft built layout which is planned for exhibition on completion. It is based on the concept of a small narrow gauge line built to serve the once numerous sand, gravel, stone and lime quarries and pits close to the south coast of Sussex. As it is intended to act as a showcase for a good - and growing - range of locos and stock in this scale/gauge combination, it is built as a modern day preservation line.

The layout size was constrained by a maximum board width of 22" and length of 48". It is forming the basis of a modular layout which other Club Member's (and non-members) can build additional modules for. On completion (some time off!) it will be available for completion. The church in this picture of one corner of the layout is based on Wiggonholt Church in West Sussex and has a fully detailed interior.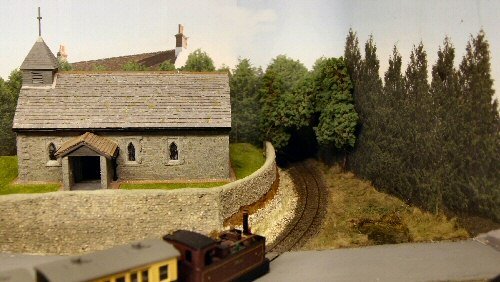 ---
Bramble Lane MPD
- Phillip Pilcher
00 scale.
This layout is Phillip's personal 00 extravaganza built around the walls of a spare room in his house. To minimise "duck-under" problems and allow ample storage beneath it is about 5 feet above ground level. The principle features are the various bridges dominated by the Victorian suspension bridge and the MPD itself. The layout can be operated as Analog or DCC (using ZTC components) and is capable of fairly intensive operation. It is primarily designed as a functional showcase for Phil's huge collection of locos and stock. A work in progress, the predominantly inner urban scenery is currently a mere suggestion - but it will appear!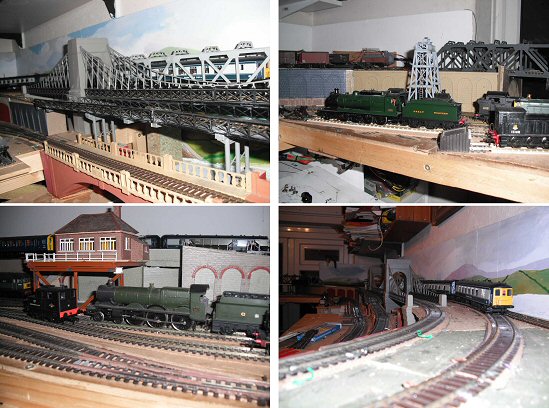 ---