G Scale - Outdoor Railway
This is a totally new concept for the Club and, although it is a "Club Layout" it deserves a page of its own.
With the new Club premises of the Signal Box and the Goods Shed, a substantial berm was built on the western side of the signal box in part to divert water into proper drainage to prevent flooding. Before long, it occurred to one of our members that this was almost perfect for a G scale railway. This would truly capitalise on our new premises as we have nver before had room for an outdoor railway nor had we done anything in G Scale.
The berm ...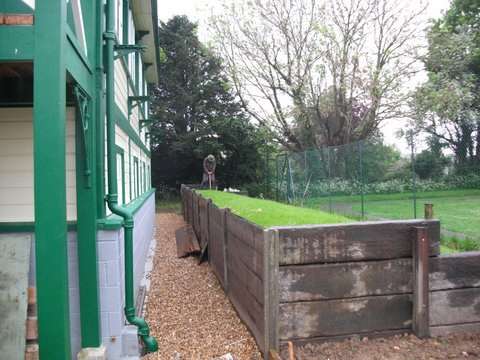 So, a proposal was prepared, costed and submitted to the Committee which, knowing that there was considerable interest and support in the Club (without any firm plans or even proposals for a scale, a lot of members had voiced the view that we would have room for such a railway), approved the proposal and allocated funds. And so ..............
On May 10th 2014, the first sod was cut by the member who came up with the idea. As one might expect, being England, the weather celebrated by raining!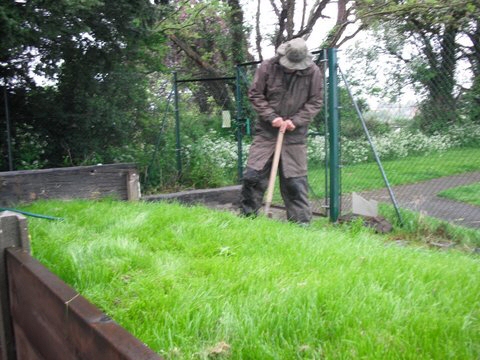 Here we see the work force hard at it - again in typical British style. Sorry, actually a pause for careful consideration.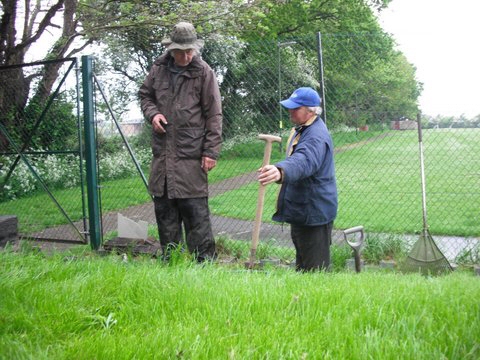 The work force was ably assisted by our Chairman and our Treasurer, suitably attired and, as you can see, they brought their buckets and spades!

The rain did finally stop and here you can see our Chariman admiring one of the cuttings for the railway to run through.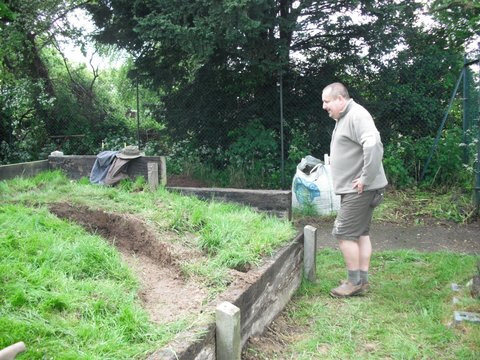 One of the locos destined to run on the layout - an USA 2-6-6-2 Mallet tender locomotive.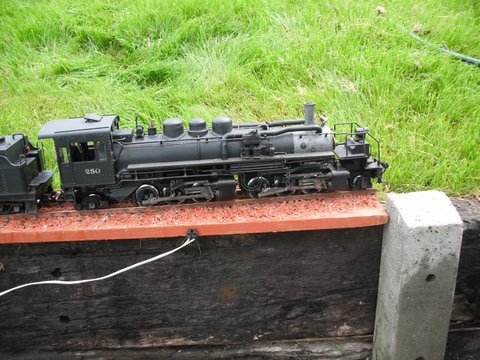 As this page is being written I can confirm that track laying is completed and that the members have already been enjoying this immensely. Now that we are getting dark evenings, the added benefit of loco and coach lights is also being appreciated. Hopefully there will soon be more photos to follow.
And here they are:-

The left and right cuttings with track laid

Here we see the retaining wall for the left cutting being built together with the tunnel portal being offered up

The left and right cuttings with their portals well bedded in

The next four pictures show more landscaping and some of the buildings which have started to appear